Hello and Welcome to my stop on the Virtual Book Review Tour for "Cake" by Elise Marion. Please be sure to leave a comment or question below as Elise will be awarding the following prize package to two lucky commenters during her tour:
A Paperback Copy of "Cake" by Elise Marion
A Beaded Bookmark with a "cupcake" charm
1/2 dozen Vanilla Cake Pops courtesy of Austin Avenue Cakes
You can follow her tour

here

. The more often you comment, the better your chances at winning.
~~~~~~~~~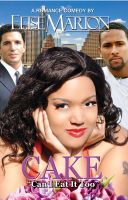 Wedding planner Taylor Vaughn specializes in magical moments. So when her best friend asks her to plan his wedding, the task should have come as simply to her as all the others. There's only one problem……she is desperately in love with the groom.
Caleb has always been Taylor's best friend as well as her deepest and most secret desire. Her hopes that he will someday come to love her back are dashed on the day he brings his new fiancé into their lives. While the misery of losing the man she loves to another woman looms over her, she doesn't expect to find her head turned by the most unlikely of strangers.
Ethan Young, cake decorator, is everything a woman could want in a man: handsome, charismatic, and has a way with icing! When she finds herself feeling more than simple attraction for the sexy baker, her heart is torn in two between the man she's always loved and the man who's slowly stealing her heart.
"So, you and Caleb must be really close."
I instantly felt my defenses coming up at the mention of Caleb's name. Most of the guys I'd dated knew that Caleb came as part of the package. Some were fine with it, but others not so much. Those guys had been dumped promptly.
"He's my best friend," I snapped, turning to watch the night sky as it flew by through the window.
"He's obviously very protective of you," he continued. "If I hadn't seen him with Kimberly tonight, I might have thought you two were a couple."
I sighed, turning back to face him again. "Look, why don't you just ask what you want to ask! If you want to know so badly, don't beat around the bush."
Ethan's eyebrows shot up into his hairline. Instead of the frown I'd been expecting, a smile spread across his face just before he laughed.
"All right," he chuckled. "I can see you're a no-nonsense kind of girl Taylor. I just wanted to make sure you're really available before I make my next move."
He steered the truck toward our exit ramp, his eyes now focused on the road as he crossed lanes to turn onto the street where we both lived. I gave him a few directions before sitting back against the leather seat and falling silent.
Before I make my next move
.
As he pulled into a parking space in the lot in front of my apartment complex, I unbuckled my seat belt.
"Caleb and I grew up together," I said. "He was my foster brother at a group home and he looked out for me. He's been taking care of me ever since."
Ethan nodded his understanding and reached across the truck's front seat to touch my shoulder. "I can't say I blame him," he murmured. "If I had a treasure like you in my life I'd want to guard it too."
My eyes widened and my knees took on a state of weakness that might just become permanent if he continued to say things like that to me. Thankfully I was still sitting. My hand was resting somewhere on the door handle, but I couldn't make a move beyond that point, not with his melted-chocolate eyes fixed on mine or his arm resting over the back of my seat. I faintly felt his fingers toying with my hair.
"Why…" I swallowed, trying to catch my breath and slow my racing heart. "Why would you say something like that?"
He smiled again and my insides melted as he leaned across the center console toward me. His masculine scent mingled with spicy cologne combined with the smell of leather to create an intoxicating haze of maleness. I leaned toward him as if drawn in by forces beyond my control.
"Because it's true," he whispered as those thick fingers came up to my jaw line.
My breath hitched in my throat and lodged itself there, choking me with the anticipation of his lips on mine as he closed the distance between us.
"Ethan," I whispered just before his lips touched mine, "I think—"
"Don't," he murmured, his open mouth caressing mine with aching tenderness. "Don't think."
~~~~~~~~
Elise Marion is a lover books and has a special place in her heart for sweet and sensual romance. Writing about love across all walks of life is her passion, as is reaching people through the written word. The Army wife and stay-at-home mother of two spends most of her time taking care of her children. Her second job includes writing stories about characters that people can fall in love with. When the Texas native isn't caring for her family or writing, you can usually find her with her nose in a book, singing loudly, or cooking up something new in the kitchen.
Cake by Elise Marion is a sweet, lightly erotic romance about two best friends who've grown up together and face changes in their relationship as adults. Taylor and Caleb grew up together in a group home knowing they could never depend on their real families, so they learned to depend on each other. They made up their own family, which began when Caleb rescued Taylor from another boy in the group home who wanted to abuse her.
Eighteen years later, Taylor and Caleb are both now both successful adults with careers and their own goals, but they still depend on each other and consider themselves family. Only now, Taylor is beginning to see Caleb as a desirable man and potential romantic love interest.
When Caleb introduces Taylor to Kimberly, a woman he's met and fallen for. Taylor is forced to decide what she wants to do about her feelings. Just when she's thinking it's time to speak up about how she feels, Caleb asks Taylor to become his wedding planner and asks Kimberly for her hand in marriage. is f
Fortunately life gives Taylor a little icing for her cake by introducing her to Ethan, a new baker she's trying out for her business. Ethan is everything a woman could want; he's good looking, successful and really attracted to Taylor. Plus he's an incredible baker and cake designer.
When Taylor has to make a choice between helping her best friend, or getting closer to Ethan and seeing where their relationship could go, will she make the right choice? Will Taylor get to have her Cake and eat it too?
You'll have to read Cake to find out, I enjoyed Ms. Marion's writing and I think you will too. Her characters are well developed and there's just enough angst and spice in the romance to keep things interesting and the plot moving at a good speed.
My Rating: 4 out of 5 Stars
Please remember to leave a comment or question below for Elise in order to qualify for her contest. The more often you comment, the better your odds at winning. You can follow her tour here.