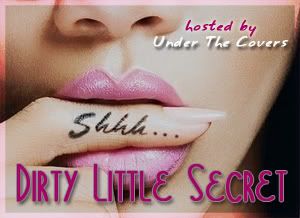 Dirty Little Secret is a weekly meme hosted by Under the Covers. Every Thursday we get to know other bloggers and our readers more intimately by asking them a question hoping to reveal their dirty little secrets. We hope that you will all join us!

To participate in the meme all you need to do is:


1. Be a follower of Under the Covers.

2. Create a post in your blog taking the meme image and copy instructions.

3. Answer the question we propose! This can be done in any way you like, post a video, write a post etc.

4. Then add your link at Under the Covers.

Non-bloggers: We want to hear from you as well!!! Let us know your answer in the comments!


We hope you join us and let us know your
Dirty Little Secrets!
"Book abuse! What's the worst thing you've done to a book."
I am ashamed to say that the worst thing I've ever done to a book was when I was much younger and really didn't understand the value of a book. I used to write in them - make notes, underline things and would bend the corners back on the end and even spilled beverages or food on a book. Now as an adult, I've grown and of course realize both that books are precious (either in paper or ebook form) and that they also have a monetary value that needs to be taken into consideration. Now I don't eat while I read and when I drink, I make sure my drink is in a no spill cup:)
What about you? Go ahead and share your Dirty Little Secret!