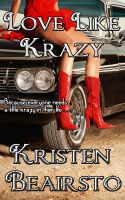 Title: Love Like Krazy
Author: Kristen Beairsto
Publisher: Kristen Beairsto
Length: 122 pages
Genre: Romance
Publication Date:
May 9, 2012
eBook ISBN
:
978-0-982083-21-5
Heat Leve: Sensual/Mildly Spicy
Purchase Link:

Amazon
Most women would probably be offended at being mistaken for a stripper, but Kit Conner finds the situation rather comical. But despite Kit's outward appearance of being able to handle just about anything, few are aware of the dark secrets Kit harbors and the demons she hides by cloaking herself in a wall of crazy antics and an outrageous fashion sense. As she returns to her hometown to play the role of maid of honor for her best friend's wedding, Kit's determined to hold on to those she holds dear for as long as she can. The only thing standing in her way is the absurd attraction she feels for Benjamin Mathews.
Benjamin Mathews is a guy who appreciates things to be slow, steady, and safe. Ben knows many consider him to be boring, but he's happy with his life and loves the horse ranch he runs with his brother. The only thing he worries about is surviving the planning of his brother's wedding.
With a wedding between Kit's best friend and Ben's younger brother fraying the nerves of everyone involved, Kit's return home brings out her dark secrets into the light. The emotional overload starts to weigh on Kit and she begins to see Ben as an anchor. As their relationship intensifies, Kit struggles to believe they might actually have a future and soon finds herself fighting for the love she never thought possible.
My Review:
Love Like Krazy

is a delightful contemporary romance with a fun and crazy heroine from the wrong side of the tracks who meets, falls in lust and love with one of the golden boy heroes in town. With likable primary characters, great secondary characters, plenty of emotional angst and enough spicy romance to keep things interesting, Kristen Beairsto captured my attention from the first page and kept me glued to her story to the end. Ms. Beairsto's

writing is sharp, the dialogue is witty and the plot was well paced. All in all, a very enjoyable reading experience.
Kit Katherine Conner is a young, beautiful, successful fiction writer, whose come home for her best friend's wedding. A woman raised by Mae, her single aunt, Kit's made something of herself she can be proud of but she still thinks of herself as the ugly, unloved girl her mother gave away. Growing up poor made things more of a challenge and early on Kit learned to hide herself behind crazy antics and an outlandish wardrobe. Earning the nickname, Crazy Kit Conner, was easy - letting people in not so much. The only people she's ever really let get close, her aunt and 3 best friends, don't really know how little she believes in herself or just how deeply she believes she'll never be loved.
When Kit meets Ben Mathews again, the older brother of her best friend's fiancee, she's surprised to discover the attraction she had for him as a teen hasn't gone away. When they are forced to spend time together and the chemistry between them can't be denied, Kit is afraid to risk her heart. Deep down she knows she'll be the one who gets hurt when he walks away, and he will walk away because she's not worthy of being loved. Deciding to take the risk, Kit's unprepared for how determined Ben is to show her what she means to him.
Ben Mathews only knew "Crazy Kit Connors" by reputation - he only knew Katherine, the quiet girl who worked part time for his mother. When he realizes Kit and Katherine are one and the same - and that she's now a desirable woman, he's determined to get to know her better. As he falls for he begins to dream of a future together. He falls for both the "crazy" and the wonderful woman she's become. He never planned on having to fight the demon's of her past childhood but he's more than willing to take on the challenge.
When Kit's birth mother shows up and threatens Kit's future, will Kit finally realize she's worthy of being loved? And will she and Ben have a future together? You'll have to read Love Like Krazy, I loved it and I think you will too.
My Rating: 5 out of 5 Stars