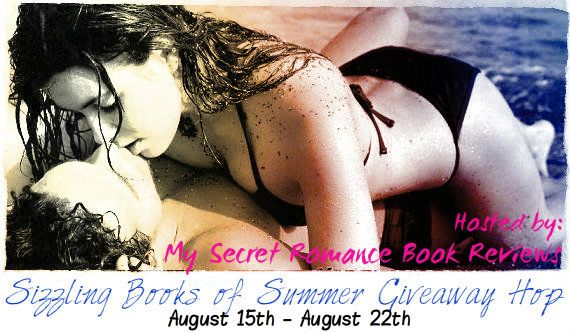 The Sizzling Books of Summer Giveaway Hop is for the books we've read this summer that have made you sizzle. Whether it be a steamy historical or a light sweet contemporary or an erotic romance, just post about your favorite sizzling read this summer. Grab some sun tan lotion, sun glasses, bathing suit and a yummy drink, this hop is sure to be a hot one!
For my stop on the Hop, I'm featuring several books I've read this summer, which were both hot and great reads. I'm also featuring my favorite summer drinks, one with alcohol and one without. Please be sure to leave a comment below regarding a hot book you've read this summer or your favorite summer drink and enter the Rafflecopter form below to enter the giveaway.
Hot Books I've Read This Summer and Loved!
Codename: Autumn by Aubrey Ross
Undercover Embassy, Book One
In a future where women have few choices, Autumn fears she'll never again know the pleasure of a man's touch. Then General Ra'jen Noirte rescues her from a whipping gone wrong. The sexy alien captivates her, re-awaking dormant desires. On the surface he radiates deadly aggression, but Autumn has glimpsed his tormented soul. Though he commands the occupation army, she suspects they have similar goals.


Ra'jen returns from combat to find a woman bound, abused and abandoned. His healing touch soon turns to hunger as she stirs beneath his hands. With milk-white skin and flame-red hair, Autumn tempts him to abandon his responsibilities and indulge long-neglected needs. Every kiss, every caress distracts from his mission, and the fate of Earth depends on his success. More than love is on the line as they form an uneasy alliance and fight their mutual enemies.
Codename: Winter
Undercover Embassy, Book Two


After the Gathosians invade Earth and enslave its surviving population, Winter is forced to work in an alien-run refinery. When Ulrick Brant rescues her from an even worse fate, she has a new choice—become an "ambassador", a sex slave to the invaders. Quickly recruited as a spy for the Resistance, Winter has her first task—seduce Ulrick, the Gathosians' enforcer on Earth, to learn the location of Earth's potential savior.

Ulrick hates the Gathosians, who force him to enslave world after world against his will. He doesn't mind helping the Resistance, but he won't be used. Before Winter realizes he's discovered her deception, he has her naked and in restraints. Even through his anger, he can't fight the electric attraction between them. But if he agrees to aid the Resistance, it will be on his terms.

Winter is dazzled by the pleasure they share but the Resistance won't wait forever. Danger is closing in, and Ulrick must choose his final role—ruthless invader or freedom fighter.
Winning Heart by Laura Browning

Can love beat a lust for revenge?
Nelson Anderson is one of the richest men in America, but his life has become a quagmire of bitterness and the need for revenge. Wynter O'Reilly is a gutsy girl determined to make her life better--and she just may be the tool Nelson needs. All she needs is a little polish.

To his surprise, a girl from the wrong side of the tracks helps heal emotional scars that all the money in the world can't fix. But just when Nelson realizes that, his own plot for revenge may cost him not only Wynter's love but her very life.

Warning: contains explicit sex, language and violence.
Bittersweet by Laura Browning
Can love survive a night he can't remember but one she'll never forget?

Anna Barlow is giving herself a fresh start, leaving everything about her old life behind. With a new name, a new career and a new look, everything about her has changed since the night her daughter Becca was conceived. Anna finds out just how different she looks when an emergency farm call brings her face to face with her baby's father...and he has no idea who she is.

Chris Stevenson is on hiatus from the world of competitive show-jumping. He's returned to the family farm to get his life back in order. Nothing's been right for the past year... not since the night that has remained a blank in his memory. When he meets the area's newest veterinarian, Chris feels two things—instant lust and that he's met her somewhere before.
As they struggle to reconcile the night he can't remember, both Chris and Anna must learn to trust each other and the idea of what family really means.
~~~~~~~~~~~~~
Out of Her League by Ava Archer Payne
Captain James Lancaster, formerly one of London's most notorious rakes, returns to England a broken man after a brutal tour in the Crimea. He is wounded in body and spirit, his badly injured leg leaving him unable to walk without crutches.

Nurse Katherine Riley has spent her entire life caring for others, but lately she finds herself longing for more. On a whim she indulges in a secret cache of provocative lingerie—just a little something to make her feel beautiful beneath her drab gowns, even if no one else can see it.

When James glimpses the erotic beauty hidden beneath Kate's prim and proper façade, he introduces her to a sensual array of forbidden delights. Healing takes on an entirely new meaning. As Kate nurses James to a full recovery, their liaison opens her eyes to an enticing new world. How will she ever return to the staid life she once knew?
Attn Readers: This book contains erotic content.
~~~~~~~~~~~~~
Favorite Summer Cocktails
Midori Sunrise (Courtesy of Drink Swap)
1 Part Midori Melon Liqour
Directions:
Mix one part of midori (or equivalent melon liqueur) with one part orange juice. Add a splash of grenadine syrup. Mix and pour over ice in cocktail glass, add 1 straw and 1 cherry and serve.
Raspberry Lemonade(Courtesy of Food Network)
2 Cups Simple Syrup (recipe below)
2 Cups Fresh Squeezed Lemon Juice
Directions:
Mix 2 cups blackberries with 2 cups simple syrup in pitcher. Add 2 cups lemon juice and 2 cups water. Place ice in glasses to serve, pour lemonade over ice and place lemon slice on side of glass. Serve.
To make 2 cups simple syrup, bring 1 1/2cups each sugar and water to a boil, stirring until dissolved. Let cool.
To enter my giveaway, please use the Rafflecopter form below.
a Rafflecopter giveaway