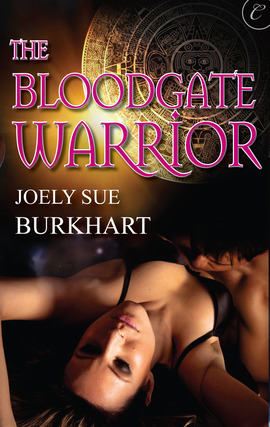 Release Date: August 6, 2012
Length: 123 Pages (46,000 Words)
Genre: Erotic Fantasy/Paranormal Romance
Series: The Bloodgate Series
Blurb:
As the Mayan hero Técun lay dying, a sorceress cast a spell tying her bloodline to him, so that one day he could return and avenge their people...
Following a near-death experience, Cassandra Gonzales is haunted by erotic dreams of a mysterious man. As the dreams intensify, she is compelled to travel to Guatemala in search of him. There she learns that her blood has opened a gate--and she is the only one who can bring the great warrior back from the afterlife.
Once faced with Técun in the flesh, Cassie fears the need he stirs within her. She aches to submit to the pleasure he promises, but first she must learn to trust in him, and in her own desires. Their time for sensual exploration is brief--Técun's killer has escaped, intent on sacrificing Cassie and wreaking havoc on the world. Now, only Cassie's complete and willing surrender to Técun will give him the power to defeat the demon once and for all...
Entry added August 2012 to the Guzmán-Gonzales family journal by Cassandra Luisa Gonzales.
When I finally broke down last week and told Nana about the dream I've been having since the accident, she didn't say a word. All she did was hand me this journal. I've read it a hundred times and most of it still doesn't make sense. It can't. I'd rather be crazy than believe that the gorgeous stranger starring in my increasingly dirty dreams is some reincarnated Mayan hero.
What started as a passionate romp in my sleep with a hunky stranger has become something much more terrifying. Don't get me wrong--they're wonderful, erotic dreams. I've never found so much pleasure and passion in any man's arms before. But each dream is stronger and more detailed than the last. He claims the magic is mine, that each time I dream him I'm binding him more fully to my world.
He's not real.
So I kept telling myself. Until this morning when I woke up with a few token bruises and scuff marks from his enthusiastic lovemaking. Either I really am losing my mind and have started to hurt myself in my sleep--including bite marks on my neck--or Nana's journal isn't a bunch of myths. Myths I started to dream before I ever read them in these ancient pages so painstakingly copied generation after generation.
Now I find myself continuing the family tradition by adding pages to this journal, both to keep my sanity and as a warning. This is what happens when you lose your grip on reality. When you begin to fall in love with a man you've only known in dreams. When you become so desperate for the truth that you're willing to leave behind everything to find him.
There's only one way to find out if I'm as crazy as I fear, or if there's a kernel of truth to these legends. I've decided to go to Guatemala and find out. I'm going to find Nana's family. I'm going to talk to some of the people who were raised on the legends in her journal.
Even more importantly, I'm going to walk the ground where Técun Úman, the legend himself, supposedly lived and breathed.
Then maybe he'll leave me the fuck alone.
Oh, don't worry about me too much. I'm taking my best friend Natalie along for the ride. She's ordered me to enjoy this desperate crusade as a vacation. Even if she has to commit me to an insane asylum before we fly home, we'll start out by having a good time.
Check out Joely's Contest
Save an Ent - Read an eBook
What's up for grabs: WINNER'S CHOICE eREADER up to $200 (USD) value.
Order your Kindle copy today!