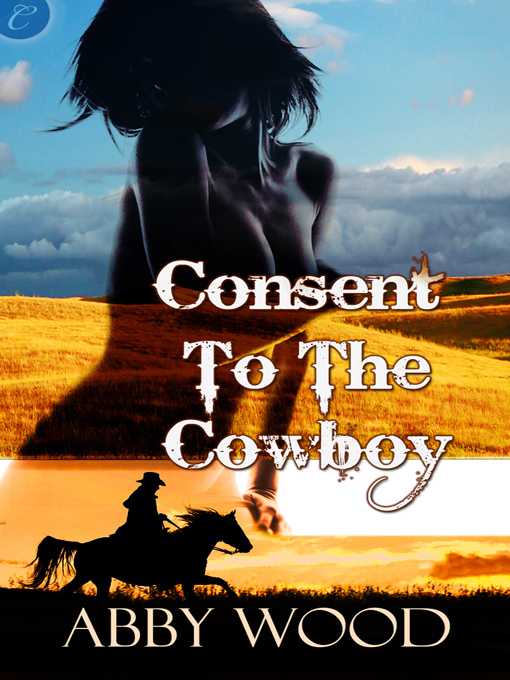 Title: Consent To The Cowboy
Author: Abby Wood
Publisher: Carina Press
Genre: BSDM/Erotica/Western
eBook ISBN: 978-1426890345
Publication Date: June 28, 2010
Length: 145 Pages
Format: eBook
Purchase: Carina Press All Romance Ebooks
Book Blurb:
Surrounded by beer-swilling, skirt-chasing cowboys her whole life, barmaid Daphne Norris has no intention of ever settling for any of the men in her Podunk hometown. So when bronc rider Will Hanson sends shock waves to her core with just one glance from his striking green eyes, no one is more surprised than her.
But Will is no ordinary cowboy, and he can see that Daphne is no ordinary small-town girl. He can sense in Daphne the quiet strength and devotion needed to satisfy a man like him, a man who needs to be on top, in every aspect of his life.
Daphne hasn't ever succumbed to her submissive desires before, and Will awakens her in ways she never imagined. While she's not prepared to give him her heart, she agrees to Will's offer of three days of intense pleasure, and then she's walking. But Daphne falls hard and fast, and now she has a decision: return to a normal life, or give up everything for Will...
My Review:
This is the first book that I've read written by Ms. Wood, it was a fairly fast read. It's an interesting mix of BDSM and contemporary western. The interaction between the characters was well written.
Daphne Norris is an interesting heroine, she's truly unsure of what she wants in life, she just knows that who she wants to be with is different than any of the men in town that she has dated. She wants someone who is strong and independent and that she can trust and rely on. She has unresolved issues from her childhood, when her father abandoned both her mother and her. She has the bad habit of dating men in town who she knows won't meet her expectations and she refuses to become intimate with any of them. She meets Will Hanson at a local rodeo and is instantly attracted to him but when he offers her what she really wants, a Dom of her own, she is afraid to commit. She';s afraid to take a chance and trust someone.
Will Hanson is a strong, handsome and very wealthy rancher who started out as a bronc rider at the age of 16. He's had a somewhat sad and possibly tortured past, but we don't get much of a back-story on him. Of the two main characters in this book, I actually liked Will more because he actually did what he said he would do. He knows the lifestyle that he wants and recognizes that Daphne would be the perfect submissive for him if he can just convince her to stay. He offers her the perfect opportunity to see what it would be like and she accepts his offer, but she's really not planning to stay with him from the start- it's not a genuine acceptance on her part. He then pursues her again and again it's Daphne that stands in the way of their relationship really moving beyond the physical and into something deeper and lifelong.
It's not until near the end of this book that Daphne finally recognizes that she is copying the behavior pattern of her dad, which she has stated she hates and that she finally begins to let go of the past. Will is a tremendous help in that regard and so is Daphne's dad, who has come back to town and is working on making amends with his daughter.
As I stated earlier this book is definitely in the BDSM category and the characters have colorful dialogue. There is use of a whip and also of clamps so reader beware that some boundaries are definitely crossed. I think that overall the story has great potential and I would have liked to have seen deeper character development and perhaps some changes in the dialogue between Will and Daphne.
My Rating: 3 out of 5 stars
FTC Disclosure: This book was purchased for review by site owner.