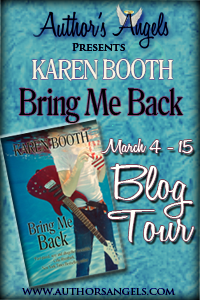 Welcome to my stop on Karen Booth's Virtual Blog Tour for Bring Me Back. Please make sure to leave a comment or question for Karen to let her know you stopped by. Karen will be awarding one (1) eBook copy of

Bring Me Back

at each tour stop from the comments.
___________________________________
Bring Me Back
by Karen Booth
Publisher: Turquoise Morning Press
Release Date: January 9, 2013
Genre: Contemporary Romance
Length: 286 Pages
Book Description:


Music critic Claire Abby is a single mom dreading her daughter's departure for college and worried that turning forty will leave her career running on fumes. She's floored when she lands a Rolling Stone cover story on 80s British rock legend Christopher Penman. She spent her teenage years fantasizing he was her boyfriend.

In person, Christopher is everything Claire feared he'd be—charming, witty and unwilling to address the rumors he's dodged for a decade. Still, she contains her adolescent fantasies and manages to earn his trust, unearthing the truth and the devastating secret behind it. His blockbuster story is her first priority when she returns home, a nearly impossible task when Christopher starts calling and flirting. She knows she should maintain a professional distance. She knows she should focus on the story. She knows it would be best to simply walk away. But how can she say "no" to the man she could never forget?
Excerpt:
This scene is mid-way through Claire's interview with Christopher. He has convinced her to join him while he tries on clothes he's ordered from a boutique.


He emerged again and turned to face me in a marine blue dress-shirt with a texture like superfine embroidery. He hadn't bothered with most of the buttons and I could see more than a conciliatory patch of his chest. The lightweight gray wool pants he was wearing looked as if they'd already been to the tailor—the fit couldn't have been better.

"How many songs did you actually record?" I had to glance away after the first few words. Talking to him while looking at him was a talent I didn't possess.

"Let me think." He stared at the ceiling, flaunting his jaw and rubbing his neck while his irresistible smell washed over me. "I went into the studio with easily twenty songs. We recorded fifteen and I believe twelve will end up on the record." He eased into the chair next to me and finished off the final drops in his glass, setting it on the table between us.

This was all a brand new kind of weird, talking to Christopher Penman while he tried on clothes. I was even getting comfortable with his appearance, but it was more difficult when he'd been out of sight for a minute and reappeared. Then he knocked the breath right out of me.

"So, if many of the songs were about dealing with your divorce, what were the other songs about?"

"The other side of it was dealing with what was my fault. That was more difficult, because it felt horrible to think about what a prat I'd been, but it was ultimately the most rewarding part."

I nodded, feeling better about my decision to focus on his record at the beginning. It was leading to the other topics and I felt sure it had helped me earn his confidence. The answers seemed to be coming easily now.

"Aside from lyrics, was there anything about the process of writing that contributed to the personal nature of the record?"

He scratched his head. "I had a lot of 'aha' moments. They weren't always thoughts that went into lyrics, but they were part of my state of mind. You can say it any way you want, but the record is the documentary of my mid-life crisis, in feeling and in substance." He stood and headed back into the dressing room. "This is the last one. Thanks for being such a good sport."

"Of course," I called. "Thanks for the private fashion show," I mumbled under my breath, disbelieving the words.

Mr. Perfect emerged from behind the curtain again, remarkable in his own black t-shirt and a mind-blowing pair of jeans. He peered down at me and swept his floppy hair from his forehead. The only thing that could've kept me from holding an impolite stare was his question about the pants, "What about these?"

I sat, dumbfounded. If it was all a distraction technique, it was working.

"Are you hungry?" he asked, before answering his own question. "I'm starving. I know a great place."
____________________________________
My Review
I think every grown woman remembers her first teenage rock-n-roll crush - the band she loved and the band member she fantasized about in her bedroom late at night. Some have dreams about the kind of life we would lead if our late night dreams came true. The reality is that most of us grow up, leave our rock-n-roll crushes behind and live normal lives - but what if you got lucky and got to meet the crush of your life? Would you take a chance to see if the reality can live up to the dream? That's the question Karen Booth's main character asks and answers for herself in Bring Me Back, a fantastic contemporary romance.
When music critic Claire Abby is given the chance for a career making exclusive interview she jumps at the chance, especially when she discovers it's with Christopher Penman, the music idol of her teenage dreams. A single mom, Claire finds herself also dealing with her daughter's final year of high school and her approaching fortieth birthday. Determined to be the ultimate professional, Claire is determined to hide her attraction to Chris, nail the interview and write the most compelling article of her career. She just hadn't planned on Chris wanting to be friends and on her teenage crush being all and more than she ever dreamed of.
Determined to get his life back on track, Christopher Penman has written and recorded his first album in years. A solo effort without his band, Chris needs the endorsement, and publicity, a Rolling Stone front page article can bring. He's determined to be charming, witty and keep the reporter under his control. He hadn't planned on being attracted to the reporter or on barring his soul. What should have been an article about his new album becomes something much more.
The scenes between Claire and Chris are fun, sharp and very well done. They have great emotional and physical chemistry. While both realize becoming friends, or more, could endanger their careers, they can't deny their attraction. Ms. Booth developed likable characters who were easy to connect with and understand. I actually felt as if I was the grown up Claire facing her teenage crush (only for me it would have been a certain Hollywood actor). As Claire and Chris become friends and a whole lot more, we get to see their strengths, weaknesses and the huge differences in their lives. While they may love each other, they're both at different places in their lives.
When push comes to shove, will the differences in their life bring them together or pull them apart forever? Will both Claire and Chris be willing to make the sacrifices love might require them to make? You'll have to read Bring Me Back to find out. I don't normally cry over books, but this one really tugs on the heart strings and I hope Ms. Booth gives us the rest of their story.
My Rating: 5 out of 5 Stars and a Recommended Read
FTC Disclosure: I received a complimentary copy of this book as a part of a book tour in exchange for a fair and honest review.
_________________________________
Author Bio and Links:

I'm Karen, a Midwestern girl transplanted in the South, raised on 80s music, Judy Blume, and the films of John Hughes. An early preoccupation with Rock 'n' Roll led me to spend my twenties working my way from intern to executive in the music industry. Much of my writing revolves around the world of backstage passes and band dynamics.

My first full-length novel, "Bring Me Back", is a story I had in my head for nearly eight years before my fingers hit the keyboard. Sleeping and eating quickly became a luxury, a plan I have since dubbed the Writer's Diet. I channeled teenage memories of plastering my walls with posters to weave the tale of music journalist, Claire Abby, and the dreamy British rock-star crush of her youth, Christopher Penman. "Bring Me Back" is a work of women's fiction, published by Turquoise Morning Press.

When I'm not creating fictional musicians, I'm listening to everything from old-school Cheap Trick to Duran Duran to Superchunk with my kids, honing my Southern cooking skills (I make some mean collards), or sweet-talking my astoundingly supportive husband into whipping up a batch of cocktails.
Links:
3/4/13
Mrs Condit & Friends Read Books
Talk Supe
Stitch Read Cook
3/5/13
Hesperia Loves Books
AJ's Reading Nook
Lori's Book Blog
3/6/13
Smardy Pants Book Blog .
Musings From An Addicted Reader
A Little Fiction of Every Flavour
3/7/13
Heart Braking Reviews
Cocktails and Books
Melinda Doizer Contemporary Romance Author
3/8/13
My Fiction Nook
Black Raven Erotic Cafe
Scorching Book Reviews
3/11/13
Sultry Storyteller
Read Your Writes Book Reviews
3/12/13
Queen of the Night Reviews
Scandalicious Book Reviews
3/13/13
Manic Readers Guest Author Blog
Harlie's Books
Bookworm Brandee
3/14/13
Brunette Librarian
StoreyBook Reviews
Simply Ali
3/15/13
Love Romance Passion
Tina's Book Reviews
Guilty Pleasures Book Reviews