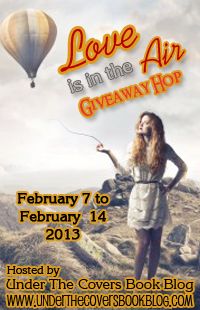 Welcome to my stop on the Love Is In The Air Giveaway Hop hosted by the lovely ladies at

Under the Covers Book Blog

. I'm going to share some Valentines Day ideas and one of my favorite holiday treats. Fill out the Rafflecopter form below to enter my giveaway.
Ways to Make Valentines Day Special (Whether Your With Someone or Not)
Look Your Best and Pamper Yourself - Spend extra time getting ready to go out on Valentine's Day, either to work or out with your friends. Get a facial, have your nails done and wear something special.

Have a Nice Meal - With your significant other or with a group of friends. Most nice restaurants have a special meal arranged for the day. Start with a glass of wine and see where it takes you. Or make an extra special meal to have at home.

Order Flowers - for the one you love or for yourself - yes you are worth it!

Have Dessert - no one's counting callaries today and neither should you! Have that slice of chocolate cake you've been dying for.

Light some candles - it sets the mood for everything from romance to watching a movie.
Top Romantic Movies of All Time (IMDB)
Classics
Romeo and Juliet (1967 - Franco Zefferlli)

Roman Holiday (1953 - Gregory Peck)

Casa Blanca (1942- Humphrey Bogart)

Doctor Zhivago (1965 Omar Sharif)

Gone With The Wind (1939 Clark Gable)
Of the Last Decade
A Walk To Remember (2002)

Before Sunset (2004)

The Notebook (2005)

Almost Like Heaven (2005)

The Holiday (2006)
Favorite Valentine's Day Treat
Drunken Chocolate Dipped Straberries (Courtesy of For the Love of Food)
a Rafflecopter giveaway