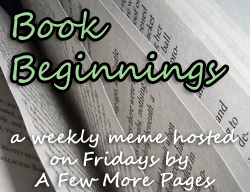 Book Beginnings is a weekly meme hosted by Katy at A Few More Pages. To play along, please do the following:

1. Share the first line (or two) of the book you are currently reading on your blog or in the comments.

2. Make sure to share the name of the book and the author so we know what you're reading.
3. Feel free to share your first impressions with us based on the first line.
4. Link your post at A Few More Pages ( or if you don't have a blog, leave it in the comments below)
"You do see that don't you? I mean that's not just
the buttery nipple shots I had after dinner talking,
right? Because, like, oh my effin' God".
My thoughts:
Clearly Ingrid is seeing something she doesn't think she should be seeing...lol
The Friday 56 is a weekly meme hosted by Freda at
Freda's Voice
To play along:
1. Grab the book closest to you, any book will do.
2. Turn to page 56.
3. Choose the fifth (5th) sentence or a few more (just don't spoil it too much).
4. Post it on your blog, or if you don't have a blog, post it in the comments below.
5. Link your post to
Freda's Voice.
"Nada. I'm concerned he's passed back out from shock."
"This has been some wild ride, huh?"
"For who", she flashed her paw at him with a grimace.
So what's your Friday meme post?