Welcome to my stop on A.M. Hudson's Mark of Betrayal Virtual Book Tour. Please be sure to leave a comment or question for A.M. below as she will be

awarding
an entire set of the Dark Secrets Series (4 books) via Smashwords at this stop.
~~~~~~~~~~~~
Guest Post - FAQ by A.M. Hudson
Hello everyone. Thanks for having me here, and a big thanks to Queen of the Night Reviews for hosting this tour stop.

With the ever-growing success of Dark Secrets, I often get asked very random questions about the series and its inception. So, I thought I'd share a few fun facts with you all today.

The series began in 2007 as a novel based in the 1800s, with a promiscuous young lad named David, who becomes a vampire while voyaging the seas in the Queen's Navy
Funny enough, one of the titles I thought about for book 4 was Queen of the Knight
I had a hard time coming up with a surname for David. I was driving to school one day, wondering what Ara's knight in shining armour's surname should be, when the name "Knight' hit me. It made perfect sense.
In an old version of Dark Secrets, Ara's father dies and she is left with her evil stepmother, Vicki, who kicks her out of home, straight into the arms of a passing renegade/vampire.
There were at least seven versions of stories with Ara, Jason and David in them before I settled on this version. This is the first version that has Mike.
Dark Secrets was originally titled 'Blood Knight', but was changed before publish, as the word 'blood' had been used so often in vampire literature that it was cliché.
Book 1 & 2 were originally one book.
To write the books, I would often listen to music and take the story in the direction the music flowed; if it was sad, bad things happened. If the music sounded like a battle song, Ara and David would end up in a fight. This method is how the butterfly kissing scene, the first argument on the football field and many other scenes came to fruition. I quite often have no idea where the story will go until it gets there.
The covers were all designed by me
The dedication in the first book is to my husband, Mike, who is nothing like Ara's Mike Many of David's romantic lines were things my husband had actually said to me. I would pause in the middle of his love confessions to grab a pen and write them down. He's become accustomed to my little trips to a notepad.
The love scene in book 4 (you all know which one I'm talking about) made me late to drop my kids at school one day, because I woke suddenly with the whole thing playing out in my head, completely changing what it was originally meant to be, yet making it ten times better. I went into school that morning giggling to myself, my cheeks a little flushed.
The title 'Dark Secrets' was coined after hours' of thought. I chose words that would draw me in if I were searching for a book, and since I love all things dark and secretive, Dark Secrets was perfect.
I still giggle when I think of that love scene in book 4
When writing the first draft of Dark Secrets, the vampire was Mike and the human BFF was David, but I kept writing 'Mike' in David scenes and 'David' in Mike scenes. I did this so often that I finally decided Mike and David obviously wanted to choose their own role in the story, and went with the flow. Now, I couldn't imagine it being the other way around.

Well, I think that's enough for now. I hope you all enjoyed Dark Secrets Fun Facts, and I look forward to seeing you all on the next tour stop.


Thank you kindly again to our host.
A.M. Hudson
~~~~~~~~~~~~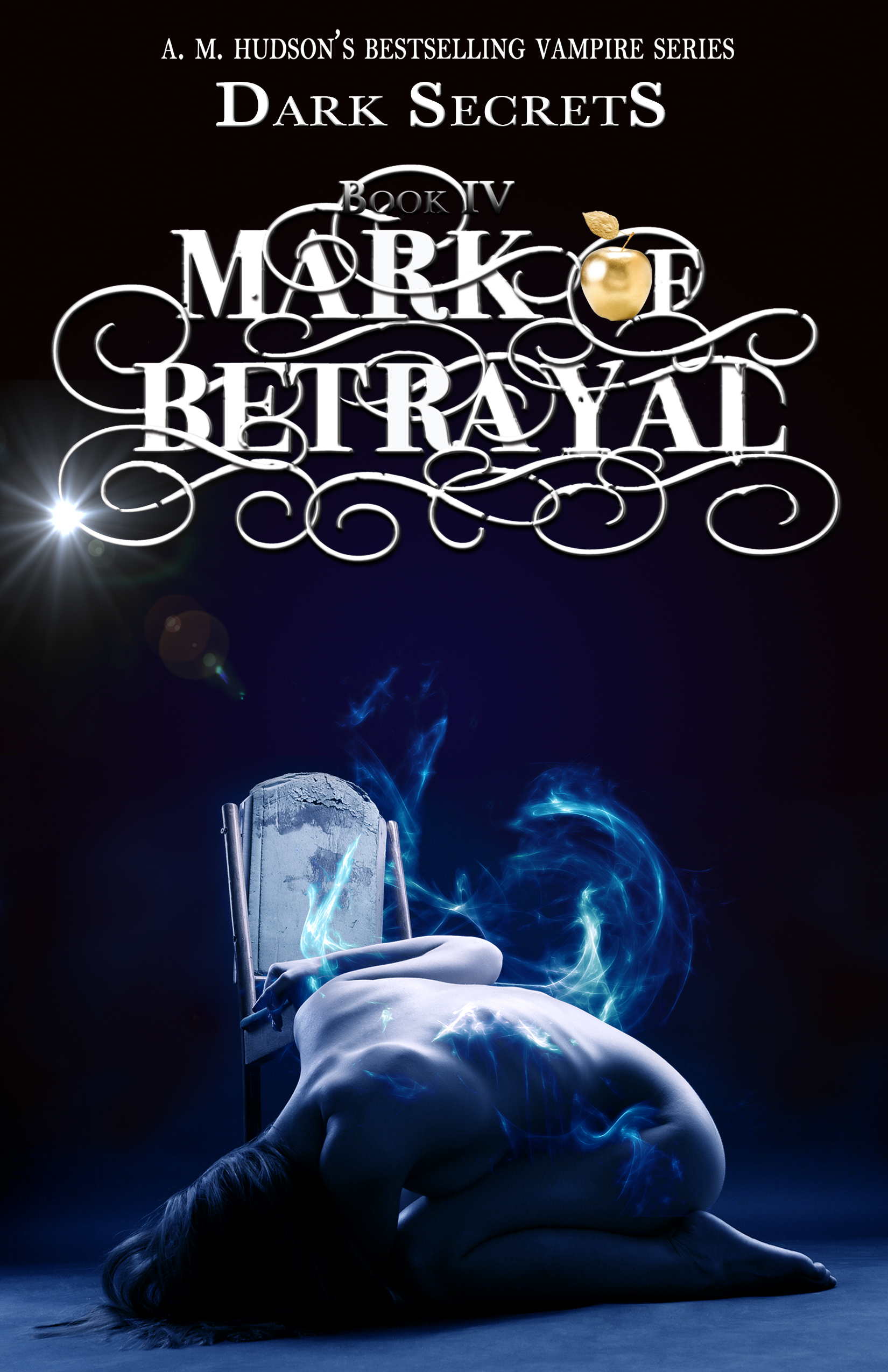 Mark of Betrayal
Dark Secrets Series, Book Four
A. M. Hudson
Genre: Paranormal Romance
ISBN: 978-0-9871925-9-2
Word Count: 170, 000 (586 Pages)
Book Description:
A love so strong fire and torture could not break it. A heart so pure neither death nor hate could taint it. But, left alone in a world of lies and secrets, Ara will find herself down the road of treachery, walking very dangerous ground, while those closest to her fight to keep her safe from dangers unseen.
The boundaries between friends and enemies will blur, and the return of an old friend will see Ara crossing a line she can never return from.
Excerpt:
He took my hand and drew me closer, sliding his cool touch down my spine and back up again, lifting my dress, taking it over my head. I watched it fall to the floor in the dark, tucking my elbows into my bare chest—not quite ready to let him see.
"You're so tiny. Such a fragile little thing." He cupped his hand to the side of my face, gently moving my wrists away from my chest. "Don't be scared, Amara. I won't hurt you."
"I'm not scared," I whispered in a shaky breath. "It's just…it just feels so wrong."
"I know." He slid his fingers down my face, over my neck and cupped my hips. "Let's just do this quickly, okay. Lay down."
My knees trembled until I felt the ground beneath them—felt the aged blood and sweat these floorboards had soaked up since this whole thing began. And Arthur lowered himself, too, kneeling before me, making the hairs along my neck prickle under his smooth touch. He traced every inch of my spine, slowly wrapping me up in his arms; I felt small but safe, cradled into his chest.
"You smell like strawberries," he said, kissing my neck; his lips were so warm, so wet and so foreign, his breath hot down the curve of my tight shoulder—his teeth grazing the flesh above my artery. And it felt nice, but wrong; this was Arthur—not David, not even Jason; he was my husband's uncle—a man I looked up to. A man I cared about, but never wanted to be with this way. I closed my eyes, praying for strength.
"It's time," he whispered in my ear, and though my stomach was tight and my body so stiff I could hardly swallow, I managed to roll myself back, restraining my tears, focusing on the chill of the cold ground on my tailbone, up each vertebra in my spine and across my shoulders. As I lay flat, the world around me felt wider, larger, like there was suddenly more space, or like the roof I'd seen a thousand times before, laying right here, usually pinned by a knight, seemed to sit miles up in the sky.
My chest lifted, my ribs expanding around the fear and hesitation inside me. "What are you looking at?" I asked Arthur.
He studied my thigh, running his hand along it so slowly I held my breath. "You're just so young, Amara—too young."
"Precisely." He dropped his hand, his head following. "I'm afraid what this will do to you."
"I've been through worse."
He laughed, but I couldn't really see his smile; his face was shadowed by the darkness. He could see me, though—his perfect vampire vision making him privilege to all the things I would never have showed him. I bit my lip when his cool touch parted my legs at the knees, and he knelt between them, his bare hip brushing the inside of my thigh.
"Oh, God," I said to myself.
"Just don't look." He wiped his thumb over my eyelid. "Just close your eyes."
"I…I can't," I said, looking up at him, and I couldn't help it, I cried.
He clicked his tongue, sinking back on his heels. "Amara."
"I'm okay. I'm…I'm okay." I let my knees fall softly together.
"We can do this another time if you're not ready."
I shook my head. "It needs to be now."
He moistened his lips, breathing out through his nose, his eyes square with hesitation. "Okay. Just…just imagine I'm him."
I nodded, tangling my fingers in my hair when he reached for the rim of my underwear.
"Lift your hips. We won't get far with these in the way."
I shut my eyes again, feeling the lace slip past my thighs, over my knees and away from my ankles. And we were naked. Together. My legs completely open; Arthur between them. He slid his hands under my bottom and pulled me forward so the harder part of him brushed softly against the warmest part of me.
I looked into his eyes, seeing the fear and concern I was feeling, too. One movement, one millimetre and he'd be in me—and with just a few strokes, all this would be over. Providing I actually fell pregnant.
"I'm just going to check you before I put myself in you—make sure you're wet."
"Wai—?" My toes curled over and I jumped when he placed a cold finger just inside me, then pulled it away.
"You're not ready. It'll hurt if you're dry."
All I could feel was a flood of adrenaline in my arms, making them weak, unattached, disturbed by the tension and memory of his finger inside me, and as soon as that feeling reached my heart, I broke apart into a mess of short, hiccuping sobs.
~~~~~~~~~~~~
A. M. Hudson loves her life in Australia and, despite wishing it would snow at Christmas, couldn't imagine living anywhere else in the world.
She fell in love with her husband at just sixteen, and since then, has added three boys to the mix.
A. M. prides herself on writing the shocking, the depthy and the highly-emotional subjects other writers steer away from. She addresses the uncomfortable with conviction and enjoys taking stories down dark paths.
Some of her heroes are Stephen King, Walt Disney, Hamish and Andy, Muse and 30 Seconds to Mars, and with influences like these, one can only imagine what stories will unfold.
When she's not writing, A. M. reads books, watches movies and chats with fans on Facebook.
WEBSITE:

http://www.darksecretsseries.com/
~~~~~~~~~~~~
Please be sure to leave a comment or question for A.M. below as she will be awarding an entire set of the Dark Secrets Series (4 books) via Smashwords at this stop.
You can visit the remaining stops on A.M.'s tour below:


Keeping Up With The Rheinlander's