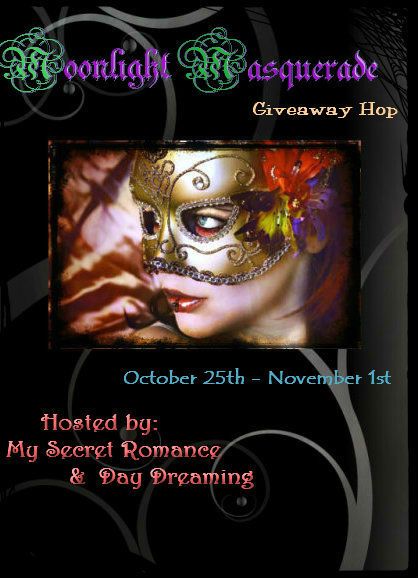 Moonlight Masquerade Giveaway hop!
Hosted by My Secret Romance and Day Dreaming
Do you have a secret crush you're afraid to reveal yourself to? Worried they'll be either too sweet or too sour? Does the thought of hiding behind a mask excite you? Would you like to fall under the spell of a brooding dark vampire and let him sink his fangs into? Or how about a sexy shifter built thick and hard that you're just dying to pounce on? Well then, come join us as we celebrate all those things that are wicked on Halloween!
~~~~~~~~~~~~
I'll be honest, for me Halloween has and always will be about the costumes and the candy...lol...but books play an important part of Halloween and what Halloween would be complete without a book about vampires - the rulers of the night? For the giveaway on this stop, I'll be giving away 1 print copy of The Care and Feeding of Stray Vampires by Molly Harper and 1 Ghiardelli Dark & Orange Chocolate bar. Just fill out the Rafflecopter form below to enter the giveaway.
a Rafflecopter giveaway
~~~~~~~~~~~~
Don't forget to visit the other stops in the hop listed below: