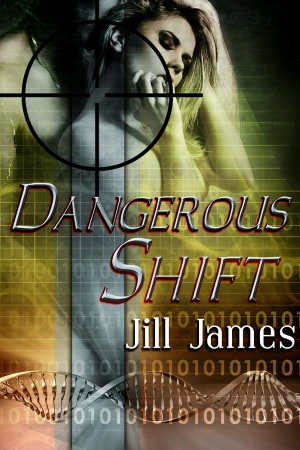 Title: Dangerous Shift
Author: Jill James
Publisher: Jill James
Publication Date: July 31, 2012
Length: 195 Pages
Genre: Shapeshifter Romantic Suspense
Heat Level: Spicy
Blurb:
HE IS MR. BY-THE-BOOK, WITH A SECRET...
Shapeshifters live among us but remain unknown to most people except for the highest echelons of law enforcement, the military, science, and medical fields—until now.
SHE IS A LOOSE CANNON WITH AN ATTITUDE...
When a fatal virus strikes Shapeshifters all over the West coast, including members of the Shapeshifter Task Force in San Laura, California, reinforcements are called in from around the United States.
TOGETHER, THEY JUST MIGHT CATCH A KILLER.
Lt. Nikki Hill of Missouri comes to San Laura and is partnered up with Lt. Sean Evans. They quickly butt heads on everything from proper police procedures to the moral ethics of euthanasia. They can't seem to get a lead on the serial killer even as members of their own families are stricken with the virus. In their grief they turn to each other and hope they have time to discover if their relationship stands a chance or if they might just be the next victims of the species extinction disease.
My Review:
Dangerous Shift by Jill James is based on a unique and interesting premise; what if shapeshifters were real, had different dna and could shift into different genders without having to shift into an animal form. How would humanity deal with that in general and specifically when fear and anger turn into bigotry? With interesting characters, a touch of romance and enough suspense and action to keep the story moving, Ms. James provided a fascinating tale.
Sean Evans, secretly a mixed blood shapeshifter, is a no nonsense cop working the toughest case of his life. A deadly virus has been attacking the West coast and has almost decimated his special task force. Forced to ask for additional shapeshifter help, Sean in unprepared for the officer he's sent. She's tall, beautiful and his complete opposite. Trying to make the best of the situation, he never planned on his new partner being his "Mari Kei" or pure mate. He also hadn't planned on having to deal with her own version of "anti-normal" bias.
Nikki Hill, a tall, leggy shapeshifter from the Mid-West, was pleased to be picked to join the special task force in California dealing with the deadly virus attacking her kind. One of the youngest Lieutenants on the force, she's determined to solve the case and get back to her life at home. She never planned on falling for her boss or on discovering he's a mixed-blood shapshifter; he's half human. Something most shapeshifters didn't know could exist and that most would look down on.
As Sean and Nikki investigate this new terrible disease, they discover it's specifically being target to just their kind. Unable to discover how the disease is being delivered or how the targets are being selected; the case becomes more complicated and the number of death's keep rising. Just when it looks like there's no hope, a member of Nikki's family becomes infected and is able to give provide them with a clue.
Will Sean and Nikki be able to stop the killer before another shapeshifter becomes a victim? What will happen when one of them becomes infected? You'll have to read Dangerous Shift to find out.
My Rating: 3 out of 5 Stars